At EKD Promotions, Inc. we are pleased to provide our customers with a variety of goods and services.  We supply promotional items and apparel in bulk for our customers who have an upcoming event or employee/school uniform needs.  We also have a retail shop with many eye-catching designs.  Here is a summary of the many services we offer.
Promotional & Apparel Distributor

Our main business is supplying our customers with their promotional and apparel needs.  We work with many industries including schools, manufacturing, restaurants, animal shelters, power plants, healthcare, and others.  Our website, AblePromos.com, is a great starting point to view promotional and apparel catalogs.
AblePromos.com is dedicated to providing our customers looking to order multiple units with a web-based showroom for all their promotional and apparel needs. This includes all your Embroidery, Screen Printing, and Promotional Product needs. Our virtual showroom provides you with access to hundreds of promotional vendors at your fingertips and 2 full apparel catalogs.  The catalogs will also include eco-friendly and Made in the USA items.
In addition to the website, we have access to thousands of promotional vendors along with several apparel vendors in our internal database. You may choose to contact us directly to research and discuss potential promotional items if you prefer not to use the web.
We understand the importance of choosing the right apparel and/or promotional items to establish brand/event awareness of your products and services while fitting within your budget.  We consider ourselves as an extension of your Marketing Department and understand the importance of logo accuracy, official logo colors, company/event message and timely delivery.
ShirtCrafts is a label of EKD Promotions, Inc. and serves as our retail branch of the business.  Our designs go seamlessly together with almost any kind of clothing including pants, shorts, jeans, jackets and more.  Can't find that gift for someone who has everything?  Visit one of our shops and you may just find that unique gift idea.  We are constantly adding more face masks, t-shirts, onesies, bibs, hats, coffee mugs, sports themed, yoga themed, and funny designs that are eye-catching and sure to impress.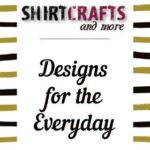 Our main library of designs is currently sold on Etsy under the shop name ShirtCraftsandMore.  In addition, you will find a select number of our designs available on RedBubble, Amazon, TeePublic, and eBay.  Each of these platforms offer some unique features.  For example, RedBubble and TeePublic provide many different product types with our designs to be available for purchase.  This includes backpacks, aprons, phone cases, and stickers to name a few.  

Although we are not a full service printer, we can handle simple printing needs including forms, brochures, posters, and business cards.  Please email us using the contact form on our sidebar or call us at (877) 737-6868 and let us know about your project.  We have supplied our customers with several printing projects including menus, door hangers, posters, banners, flyers, labels, notepads and business cards.
We carry a wide variety of trade show display kits.  We pride ourselves as a one-stop solution for your trade show event.  You can order your trade show kit, branded tablecloth, retractable banners and signage, promotional giveaways, branded apparel, and much more.  Please email us using the contact form on our sidebar or call us at (877) 737-6868 to discuss your event's needs.